Why is it important to hire an expert Newark Workers Compensation Lawyer?
Workers compensation laws require employers to provide a safe working environment. According to workers compensation laws, employees injured during the course of their employment are entitled to workers compensation benefits regardless of who was at fault for the accident.
What constitutes a Workers Compensation Claim?
Workers Compensation benefits are designed to provide a quick, efficient way for employees to receive fair compensation for their injuries suffered during the course of their employment. Work related accidents and construction site accidents are among the types of accidents typically covered by workers compensation.
Have you been injured at your place of work in Newark?
Employees are entitled to temporary disability, for time missed from work, permanent disability, an award that compensates the employee for their injuries, and medical treatment.
How can the Fredrick Schreck Work Injury Lawyers help me?
The work injury attorneys of Fredrick Schreck Law Firm will explain to you what benefits you are entitled to and guide you through your workers compensation claim in order to ensure you receive the maximum benefits. If you suffered a work related accident, do not hesitate and contact the Workers Comp Lawyers at the Office of Fredrick Schreck.
What are typical work related injuries and workers compensation claims?
Typical work injury claims:
neck injuries
back injuries
herniated disks
bulging disks
torn meniscus
torn ACL
fractures
rotator cuff tears
amputations
eye injuries
repetitive motion injuries
exposure to toxins and occupational hazards
Workers Compensation Settlements Spotlight
Awarded to Fredrick Schreck Workers Comp Lawyer
$97,200
Inured Back & Leg Breaking Up Fight
The Law Office of Fredrick Schreck settled a Workers Compensation claim for $97,200. The client was employed by the Board of Education and injured his back and right leg when breaking up a fight. The client suffered a tear of the quadricep tendon and underwent surgery to repair the ruptured tendon. Additionally the client suffered a herniated disk to his back and underwent a discectomy.
What steps do I take if I've been injured at work?
When injured in a work accident, it is important you notify your employer and file an incident report. Your employer will provide medical treatment for the injuries that you suffered. Next, you should speak with one of our experienced Workers Compensation attorneys, letting them guide you through the process to ensure the maximum recovery for your workers comp claim.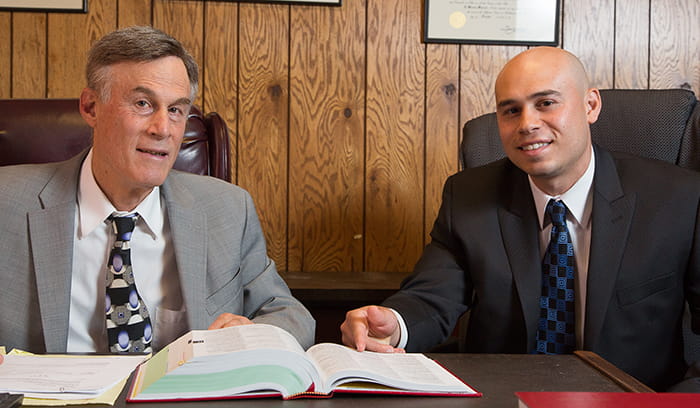 Fredrick R. Schreck and
Jarrett Schreck
Workers Compensation Lawyers
Serving Newark, New Jersey
At the Law Firm of Fredrick Schreck, our highly competent Workers Compensation attorneys will fight for your rights and ensure that you will receive a fair settlement for your Workers Compensation case.
*All inquires and consultations are with no obligation, free and 100% confidential.