Why is it important to hire an expert Newark Motorcycle Accident Lawyer?
Have you been injured in a motorcycle accident that was someone else's fault? If so, you could be entitled to fair compensation for your injuries, loss of income, and more. The skilled and experienced motorcycle accident lawyers from Schreck can analyze your motorcycle accident case, help you determine if it warrants compensation, and develop a sound legal strategy to get you the remuneration you deserve. Contact the motorcycle accident attorneys at Schreck Personal Injury Law Firm today for a free consultation.
How do I determine if I am entitled to compensation for my injuries?
Victims of automobile accidents are entitled to money to compensate them for the injuries that they have suffered. Typical injuries of accident victims are:
whiplash
back pain
neck pain
headaches
knee injuries
fractures
brain injuries
paralysis
How much money are Newark motorcycle accident victims entitled to for their pain and suffering?
Auto injury victims often have questions regarding how much money they are entitled to for their pain and suffering. Each motorcycle accident settlement and case is different. The attorneys of the Fredrick Schreck Law Firm gives personal attention to every matter including meeting with the client and thoroughly reviewing of all medical records. The auto accident lawyers will fight for your rights, to ensure you receive a fair motorcycle accident settlement for your personal injuries.
Car Accident Settlement Spotlight
Awarded to Fredrick Schreck Auto Accident Lawyer
$575,000
Car Accident Lawsuit
The Law Office of Fredrick Schreck filed and settled an automobile accident lawsuit for $575,000. The car accident victim was traveling on the George Washington Bridge when a van trying to merge from the left struck his vehicle on the driver's side. The client injured his lower back which required a lumbar fusion and epidural injections. The victim was also deemed totally disabled by the Social Security Administration. To help facilitate the settlement an economist was hired to give his prognosis on future lost earnings.
Have you been injured in a Newark motorcycle accident?
Newark is a very dangerous city and many people are victims to others' reckless and negligent driving. There are many busy and dangerous intersections, such as Broad Street and Market Street. Newark also has dangerous highways, such as Route 280 and Route 21.
What additional evidence should I have if I'm thinking about suing for a motorcycle accident injury?
Although it is not required, it is very helpful after an accident to take pictures of your vehicle as well as the adverse vehicle to show the property damage from the accident. Also take pictures of the intersection after the accident. Although this is not required, a picture may be helpful in maximizing your auto accident settlement.
Every attorney has a different opinion on a case. While one attorney may not think that a potential client has a case he can recover on, a different attorney may want to take the case. I have recovered thousands of dollars for clients after other attorneys refused to take these case. Even if another motorcycle accident lawyer has decided you do not have a good case, contact the Schreck motorcycle accident law firm for a consultation, and we may be able to recover money for you.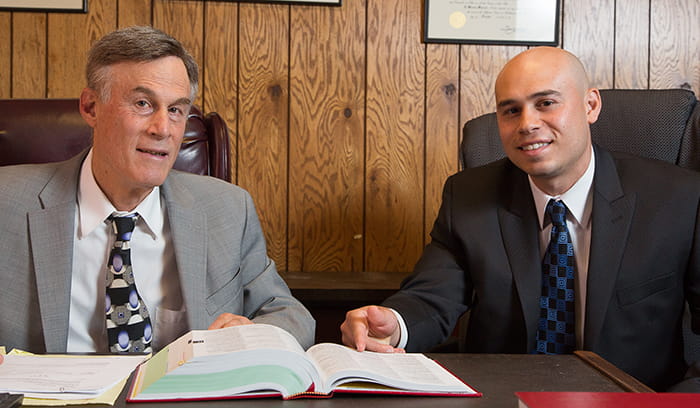 Fredrick R. Schreck and
Jarrett Schreck
Motorcycle and Truck Accident Lawyers
Serving Newark, New Jersey
At the Law Firm of Fredrick Schreck, our highly competent Motorcycle Accident attorneys will fight for your rights and ensure that you will receive a fair settlement for your Motorcycle Accident case.
*All inquires and consultations are with no obligation, free and 100% confidential.